Anti-Wrinkle Injections in Altrincham & Cheshire
Treatments start from £149. Administered by fully qualified medical and dental professionals. If you are interested in a consultation please fill out the form below, email [email protected] or call 0161 327 0969.
Defy age and time by restoring your skin's elasticity and youthfulness with anti-wrinkle injections at our clinic in Altrincham, serving patients from Manchester, Cheshire and beyond.
Wrinkles, lines, and furrows are a natural result of the expressions we make, ageing, and sun damage. As we get older, our skin naturally begins to lose its elasticity, and become less plump and firm.
Anti-wrinkle injections are a quick and convenient way of enhancing your natural beauty by restoring the appearance of your skin without the need for any invasive surgery.
The treatment, which could be completed during your work lunchbreak, only takes around 30 minutes and is virtually pain-free.
Treatment for wrinkles can be given in the form of anti-wrinkle injections.
&nbsp
About Our Anti-Wrinkle Injections
At REVOLUTIONAESTHETICS we are highly experienced medical and dental professionals currently using the leading brands in anti-wrinkle treatments.
During your anti-wrinkle treatment, a naturally occurring protein called botulinum toxin (Botox) is injected into the specific muscles responsible for the wrinkles and lines that you wish to target.
Injections are carried out using a very fine micro-needle by professionals trained in administering low-pain injections and treating those with needle phobias.
The injections work by blocking nerve impulses to tiny facial muscles - thus reducing the prominence of expression lines to achieve more youthful and radiant skin.
All treatments are carried out by fully qualified professionals with backgrounds in medicine and dentistry. At REVOLUTIONAESTHETICS we believe safety is paramount.
Botox is a treatment that is only available with a prescription, so you will be required to have a full consultation with our medical practitioners to establish whether you are a suitable candidate for the treatment.
Our team are qualified and experienced in a variety of medical fields including general practice, personal nutrition, dentistry, and aesthetics, and they will advise you on how to approach your treatment and achieve the results you desire holistically.
&nbsp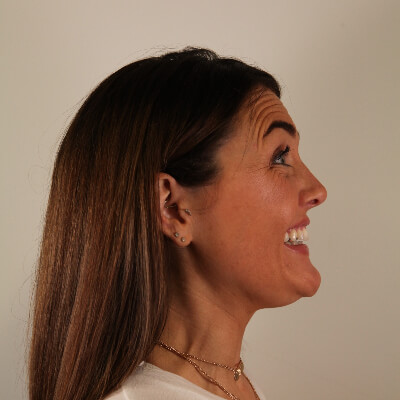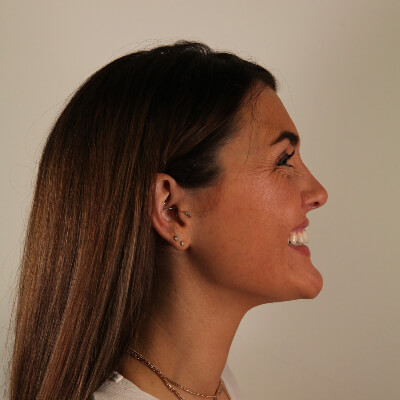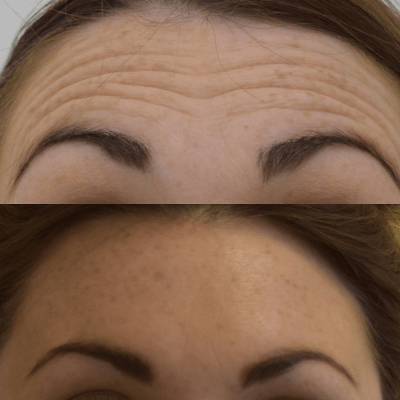 What can anti-wrinkle injections be used to treat?
During your consultation we will discuss with you the look you wish to achieve and the areas you wish to target. Anti-wrinkle injections are a versatile type of treatment, commonly used to smooth out wrinkles and lines, plump, firm, and lift skin.
Areas that anti-wrinkle injections can be used to treat include:
Frown lines - area between brows
Forehead lines
Eyebrow lift
Crows feet around eyes
Under eyes
Jaw line
Gummy smile
Lip lines
Anti-wrinkle injections will plump up the skin to soften and reduce the appearance of wrinkles and lines for natural-looking results.
Benefits of anti-wrinkle injections
Anti-wrinkle injections are one of our most popular treatments due to their versatility and excellent results.
Here are just some of the reasons why so many people are choosing to restore their appearance with anti-wrinkle injections:
Quick to administer
Almost pain-free
Versatile treatment
Natural-looking results
Safe
No invasive surgery required
Younger looking skin
Can target specific areas
Boost your confidence
Start seeing results in a few days
Results are semi-permanent
You can wear makeup immediately
Whilst ageing is a natural process, many people are now embracing the opportunity to restore the youthful appearance of their skin and rediscover their inner youth.
Our anti-wrinkle injections have given many of our clients back their self-esteem by banishing or reducing the appearance of wrinkles and lines that they were self-conscious about. Treatment can help your youthfulness to shine from both inside and outside, giving you the confidence you need to take on the world.
About the Skin Ageing Process
The skin serves as a barrier between the body and the outside environment, protecting it from water loss and infection. Skin is prone to ageing due to its exposure to the outer environment. Wrinkling, loss of elasticity, laxity, ageing skin, and a rough-textured look are all symptoms of skin ageing.
While the number of cell layers does not change with age, the outer skin layer thins. There is a reduction in the number of pigment-containing cells, while the size of the remaining melanocytes increases. With age, the skin appears thinner, paler, and clearer. Sun-exposed areas can develop pigmented patches, such as age spots.
Subcutaneous fat thins with age, resulting in less insulation and padding, increasing the risk of skin damage and lowering your ability to regulate body temperature. Hypothermia can occur due to a lack of natural insulation.
As you age, your sebaceous glands generate less oil. This is a minimal decrease for men until a much later stage, women's oil production decreases gradually after menopause, resulting in difficulty to keep the skin moisturised. As a result, the skin is prone to itching and dryness.
The skin's strength and flexibility are reduced due to changes in the connective tissue. The dermis layer of the skin's blood vessels become more fragile and vulnerable, resulting in bruising and bleeding beneath the skin.
Ultimately, the biggest downside of the skin ageing process is that as you age, you are more likely to sustain a skin injury. Your skin becomes thinner and more delicate and some of the protective fat layer is lost.
Anti-Wrinkle Injections vs. Dermal Fillers: What's the Difference?
Being the most popular cosmetic treatment out there, anti-wrinkle injections (Botox®) are used to prevent the formation of new wrinkles and to reduce the appearance of existing or emerging wrinkles, whereas dermal fillers are used to fill out shallow areas of the face such as cheeks and lips and rejuvenate the skin.
Anti-wrinkle injections alter the function of your nerves and muscles, preventing the muscle movement that generates wrinkles. When taken in small doses, Botox® contains a neuromodulator generated by a bacterium that relaxes muscles and nerves. Dermal fillers, on the other hand, provide volume to soft tissue and shallower parts of the face to create a smoother appearance and add volume. Botox is an excellent choice for treatment of gummy smile, down-turned mouth and Nerifti lift.
Gummy smile - product can be injected into the mouth area to reduce the exposure of gums. The injection essentially pulls the top lip forward/enhances the lips to hide the gum area.
Down-turned mouth - product is injected into the muscles surrounding the corners of the mouth to manipulate the facial folds and lift them.
Nefertiti lift - this procedure targets the neck and jawline in defining the area and reducing wrinkles and the appearance of aging.
Common uses of anti-wrinkle injections include reducing wrinkles such as crow's feet around the eyes and forehead lines, reducing dimples on the chin, eyebrow lifts, and smoothing lines on either side of the nose. Meanwhile, common reasons for dermal fillers include adding volume to the skin, creating a smoother appearance and lip and cheek fillers. If your focus area is the forehead, it is recommended to start with Botox rather than dermal fillers. The majority of clients are able to see a clear improvement in their forehead lines with Botox with fillers.
Both dermal fillers and anti-wrinkle injections are reabsorbed over a number of months and aren't long-lasting. Depending on the area the treatments are applied, anti-wrinkle injections last around three to four months, while dermal fillers last between 6 to 18 months.
Why Choose Revolution Aesthetics?
If you are looking to enhance your natural beauty, combat ageing, reduce the appearance of wrinkles and facial creases/lines, and boost your confidence and self-esteem, look no further than Revolution Aesthetics to treat a variety of skin conditions and provide the most professional facial treatment service there is. We are the best treatment provider for botox in Manchester.
Our highly skilled team are fully qualified and experienced in a variety of medical fields and will advise you on how to approach your treatment and achieve your desired results appropriately and properly. Every one of our clinicians is fully committed to providing you with the highest-quality service with advanced treatments. We provide you with the ultimate, holistic preventative approach to anti-ageing.
Our clients are at the heart of our services and all that we do. We devote time and effort to provide complete one-to-one consultations as we prioritise customer satisfaction and believe that every one of our current and future clients is a unique individual who has a different skin type which will desire different requirements to the next.
Our facial treatments at Revolution Aesthetics are completely safe, effective and both medically proven and tested to help restore a youthful and smooth appearance. With exceptional expertise from years of training and qualifications on behalf of all our practitioners, we have mastered our anti-wrinkle injection treatment techniques so that every client is treated with a quick, convenient, effective, and extremely low-pain experience.
Safety is another high priority of ours - in fact, nothing is more important to us than client safety at Revolution Aesthetics, and we execute safety to the highest standards as all treatments are carried out by fully qualified, esteemed professionals in the industry. We will explain to you the entire procedure before any treatment begins, and we will even go through your reasoning for the treatment to check if this treatment is really for you.
We also provide a numbing procedure that has been expertly formulated to relieve any discomfort you may endure throughout the anti-wrinkle injection treatment and any of our other practices.
The very moment you step foot into our facilities, we provide you with a warm welcome and allow you to feel at ease and free of any stress. We provide calming music in a comforting environment full of friendly staff and professionals.
From the moment you first decide you would like surgical facial treatment, we will remain there for you throughout your entire client journey - not just your first treatment. Even after your treatment is over, we will keep in contact to ensure everything is as it should be.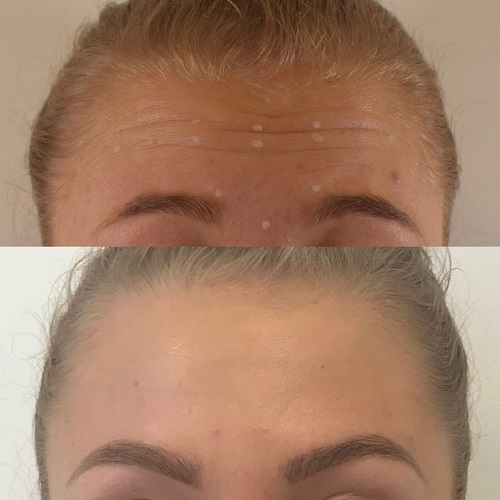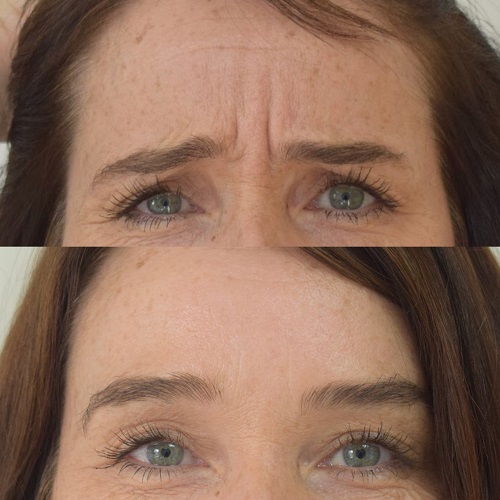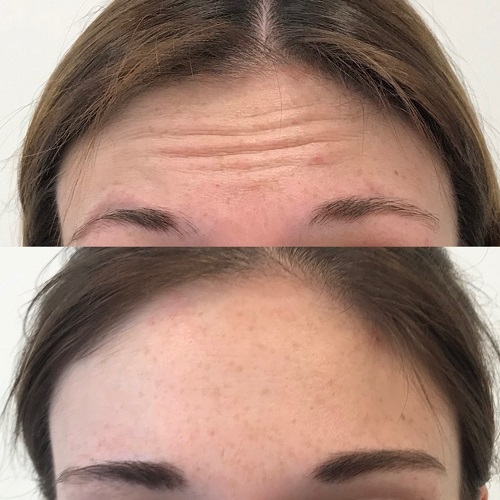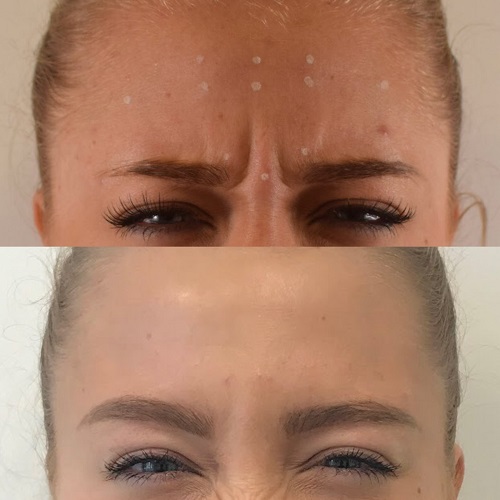 Q.
How long does it take?
Roughly around 30 minutes, but every person is different and this will be discussed in your personalised consultation.
Q.
How long does it last for?
Around 4-6 months. This range is because some individuals will break down the active ingredient quicker than others.
Q.
What will the treatment involve?
Following consultation whereby your specific needs will be identified, the treatment will be administered using ultra fine needle injections to the specific areas of the face.
Q.
When will I see results?
It is a common misconception that effects will be visible straight away but it can take up to five days before you begin to see results. All clients are reviewed after two weeks of receiving treatment to ensure satisfaction.
Q.
What happens after treatment?
There are very few side effects associated with this treatment. This is discussed during your consultation. Soreness and mild swelling can occasionally occur, which commonly settles quickly. All clients are provided with aftercare following treatment.
Q.
How much does it cost?
This is dependent on the number of areas treated and volume of product required. Prices start from £149.
Q.
Is it safe?
At REVOLUTIONAESTHETICS, nothing is more important to us than our clients' safety. Anti-wrinkle injections are safe as long as they are administered properly by qualified individuals. Because the body breaks down Botox within months, the adverse side effects experienced by a tiny percentage of patients are not permanent. The NHS website has information about cosmetic procedures.
Q.
Is the treatment suitable for men?
Anti-wrinkle injections are a fantastic anti-aging solution for both women and men. Botox for men - sometimes called 'brotox' - is becoming ever more popular as a way of subtly reducing the appearance of wrinkles and frown lines.
Q.
What are the side effects and risks of Botox® treatments?
Botox® injections are relatively safe when carried out by an experienced doctor, but side effects are not an impossible occurrence. Possible risks and side effects include:
Headaches and flu-like symptoms
Droopy eyelids
Pain, swelling and potential bruising to the area of the injection
Crooked eyebrows
Excessive tearing
Drooling
There is an extremely low chance that the toxin from the injection will spread to your body, causing problems with vision, muscle weakness, breathing issues, speech difficulties, and loss of bladder control.
Q.
What happens at my consultation?
You are required to receive a full consultation with our medical practitioners to establish whether you are a suitable candidate for the treatment. During your consultation, we will discuss with you the look you desire to achieve and the areas you wish to target from the treatment. We will discuss everything the injection entails and any side effects that may come with it. We'll basically explain the entire process to you.
Q.
What happens during a Botox® treatment?
During your Botox® treatment, a botulinum toxin (Botox) is injected into the specific muscles responsible for the wrinkles and lines of the area you want to target. The injections are performed utilising a very fine micro-needle.
Q.
How should I prepare for a Botox injection?
You should aim to feel relaxed before a Botox injection relieves stress. It is a big occasion that will affect your appearance for some time so make sure you are relaxed before treatment. Inform us of any medication you are set to take up to 24 hours before treatment so that your medication does not become harmful when combined with Botox. You should also clean your facial skin carefully to free the skin of any oils, dirt, moisturisers or cosmetics. We recommend washing your face with mild soap and lukewarm water.
Q.
What are Botox® injections used for?
The most common use of Botox® injections is to smooth out wrinkles and lines and to plump, firm, and lift skin.
Anti-wrinkle injections can also be used to treat:
Crow's feet around eyes 
Frown lines - the area between brows
Forehead lines
Eyebrow lift
Jawline
Gummy smile
Lip lines
Q.
Does the injection hurt?
Because Botox injections are administered with a very thin needle, they are relatively painless. As a result, clients do not require any anaesthetic.