Chin Reshaping in Altrincham & Cheshire
Chin Reshaping Treatments start from £199. Administered by fully qualified medical and dental professionals. If you are interested in a consultation please fill out the form below, email [email protected] or call 0161 327 0969.
Chin Reshaping Treatments start from £199. Administered by fully qualified medical and dental professionals. If you are interested in a consultation please fill out the form below, email [email protected] or call 0161 327 0969.
What Is Chin Reshaping Treatment?
For many people, the chin and jawline are areas that can cause great insecurity. Asymmetry, or a weak chin are all things that many people struggle with, and are things that are very hard to improve without treatment. Chin reshaping is a treatment that for many years could only be carried out surgically, in a treatment known as genioplasty. Today, using non-surgical methods we can effectively reshape, sculpt and smooth the chin in a way that is considerably less invasive, takes far less downtime and is much safer than surgical methods, as there is no need for general anaesthetic, a far smaller risk of infection and much less time needed in a hospital or clinic environment during recovery!
Chin and jawline reshaping is a very popular treatment that allows us to gently and subtly sculpt the chin and jawline to create a smoothed, slender appearance without surgical intervention. At Revolution Aesthetics, we use high-quality dermal fillers to non-surgically enhance the chin and jawline, correct asymmetry in the jawline, sculpt the chin and add more definition to the neck and jaw, resulting in a beautiful, lifted, sleek appearance without having to go under the knife!
Dermal Fillers For Chin Reshaping Treatment
We use dermal fillers for our chin reshaping treatment as they are incredibly safe, give beautiful and natural-looking results, don't require any significant downtime after treatment. Dermal fillers can be used for a wide variety of treatments, including chin reshaping, jawline enhancement, lip enhancement, cheek enhancement, tear trough rejuvenation and brow lifting, among many others. Dermal fillers work by adding volume under the skin with a hyaluronic acid-based gel. Hyaluronic acid is used because of its hydrating and volumising properties, and its impeccable safety profile. Hyaluronic acid actually occurs in the body as a part of normal skin function and is degraded naturally by the body's own systems over time, meaning that dermal fillers aren't a permanent treatment, unlike surgical options, making it perfect for a lift without a permanent commitment.
When it comes to chin reshaping treatment, we use top of the line products to help make treatment as effective and comfortable as possible. The best dermal fillers for chin and jawline treatment are slightly thicker and more viscous than for lip enhancement, for example, and the importance of having a practitioner who understands this element of your treatment cannot be understated. At Revolution Aesthetics, our team of medical and aesthetic experts are highly knowledgeable about the treatments and products we offer to ensure every experience you have with us is informed and gives you the beautiful, subtle and natural-looking results you're looking for.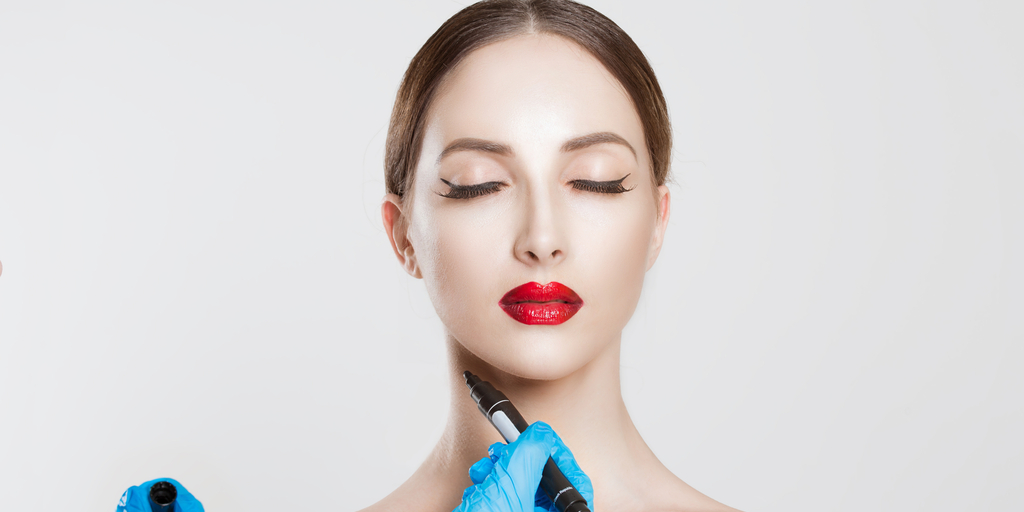 Why Choose Revolution Aesthetics For Chin Reshaping?
At Revolution Aesthetics, we are passionate about ethical and safe aesthetic practice, and our dermal filler treatments, including chin reshaping and jawline enhancement, are no exception. We use market-leading products to ensure our clients are getting results that are deeply effective, and having a clean, safe clinic space is of the utmost importance to us. As a team with a strong medical background, the safety and comfort of our patients is always the most important thing, and we never oversell treatments or overtreat when it isn't necessary. Because of this, we are trusted by our clients to give them the results they desire without having to worry about any step of the process. From your initial point of contact, through to treatment and aftercare, the Revolution Aesthetics team are always on hand to give you help and advice and ensure you're making the safest and most effective treatment decisions for you.
To find out more about Revolution Aesthetics, the treatments we offer, including chin reshaping and dermal filler treatments, or to book your free consultation with our expert team, get in touch today!
Q.
Can fillers make your chin look smaller?
Yes - the dermal fillers used in our chin reshaping treatment are designed to make your chin look slimmer in appearance. This is done subtly and gently to maintain a natural look. From the start of your consultation, we put your safety and your goals first, tailoring each treatment to achieve the desired result. If you want your chin to look smaller and, in other words, smooth and slender, then our chin reshaping treatment is the perfect solution for you.
Q.
How long do chin dermal fillers last?
As with all treatments that use dermal fillers, the chin reshaping treatment does not produce permanent results. Results from the use of dermal fillers are usually visible within a week and then last for around six months after the treatment. This option is perfect for achieving your ideal look without making any lifelong commitments. To maintain your look, you will need regular top-ups of dermal filler - this will be discussed during your consultation.