SuneKOS Anti Aging Treatment in Altrincham & Cheshire
Treatments start from £649 for four treatments. Administered by fully qualified medical and dental professionals. If you are interested in a consultation please fill out the form below, email [email protected] or call 0161 327 0969.
The visible ageing process is one that is completely natural and happens to everyone, but it can still make you feel less confident about your appearance and stop you from feeling your best.
As we get older, collagen production in our bodies slows, and eventually stops completely. Collagen is a structural protein found in the skin that gives skin elasticity, strength and plumpness, along with elastin, which also declines over time. As the amount of these proteins in the skin decreases, skin begins to lose some of its elasticity, volume and bounce.
This leads to the appearance of fine lines and wrinkles in the skin, as the skin isn't able to regenerate quickly in areas where the skin folds. This is particularly common in areas such as around the eyes, in the nasolabial folds and on the forehead, as these are some of the most expressive parts of the face. The skin is also thinner and so more liable to a papery feeling, dryness and pigmentation. While these are completely normal and harmless, fine lines and wrinkles can make you look older than you feel, or to feel self-conscious about your appearance, stopping you from living your life to the fullest.
That's where we come in. At REVOLUTIONAESTHETICS, we take a medically advised, holistic approach to anti-ageing, and are proud to offer the SuneKOS treatment system for natural-looking, effective and beautiful anti-ageing. Our clinic in Altrincham is perfectly located for patients throughout Manchester and Cheshire.
What is SuneKOS
REVOLUTIONAESTHETICS would like to introduce the very latest breakthrough in anti-ageing treatments.
SuneKOS is a unique formula of six specific essential amino acids and hyaluronic acid, all of which are required for your skin to help fight the effects of ageing and help restore damaged skin. Its special formulation targets the extracellular matrix, creating bio-regeneration. This allows production of new collagen and elastin, the most vital structural proteins for the skin as the skin uses its own natural processes to regenerate and create a boosted appearance.
SuneKOS contains hyaluronic acid, the same substance frequently used in dermal filler formulas and deeply hydrating skincare. This helps to plump and hydrate the skin, keeping it healthy and moisturised, while also very gently and subtly filling in fine lines and wrinkles. SuneKOS' formula of amino acids then helps to kickstart the skin's natural regeneration processes, to improve the health, youthfulness and vibrancy of the skin over time, while continuing to gently and gradually erase the appearance of fine lines and wrinkles. SuneKOS also helps to lift drooping skin and add volume to sunken areas in the face in a gradual and natural-looking process.
SuneKOS can be used all over the face and body to help regenerate and rejuvenate the appearance of skin, and give you a smooth, lifted and more youthful appearance.
SuneKOS is a great alternative treatment to dermal fillers or anti-wrinkle injections (Botox or Azzalure), and is perfect for patients wanting to achieve a more natural approach to anti-ageing. Due to its incredibly subtle and natural-looking results, SuneKOS is perfect for patients who want to help combat anti-ageing, but don't want to look 'done' or lose any facial movement. However, it can also work well when used in conjunction with other treatments to provide a complete anti-ageing treatment plan.
SuneKOS is extremely versatile and can be used to treat many areas around the face and body, including the neck, face, circles under the eyes, eye bags, forehead, décolletage, hands, arms, inner thighs and knees. It is an injectable treatment that can be carried out in less than half an hour in a quick, painless procedure with no downtime!
SuneKOS Treatment At Revolution Aesthetics
At Revolution Aesthetics, we are passionate about beauty and medically informed solutions for anti-ageing. As a small team of medically trained professionals, we know the importance of patient safety, and are passionate about safety in aesthetics, an industry where regulation is still sadly lacking.
All our clinicians at Revolution Aesthetics have extensive knowledge of facial anatomy and the biochemistry of the skin, to ensure all our patients are treated safely and effectively using the most up to date techniques available to us.
We operate from our private clinic in Altrincham, and always carry out a full consultation before any of our injectable treatments, including SuneKOS. This allows us to ensure that SuneKOS treatment is the most medically advisable course of action for you. If our expert team on't think that SuneKOS is right for you, we'll work with you to recommend alternative treatment plans or refer you to a specialist who can get the results you're looking for from your skin treatment.
The consultation process also gives you the opportunity to get to know us and make sure that we are the right aesthetic practitioner for you, to make sure you're entirely comfortable throughout the treatment process.
On the day of your treatment, you'll be welcomed into our private clinic in Altrincham by our friendly team. We'll talk through the treatment process with you to ensure your safety and comfort. SuneKOS is injected under the skin using a fine needle to give the best possible results and ensure that the bio-regeneration process is effective and gives you beautiful, natural-looking results quickly and effectively.
The treatment is carried out by one of our highly qualified aesthetic practitioners and usually only takes around 20 minutes. The treatment is not painful, and our team are highly trained in different injection techniques to help alleviate any discomfort you feel during your SuneKOS treatment.
After your SuneKOS treatment, you can get back to your day straight away, as there is no recovery period or downtime needed after the treatment.
SuneKOS is different to other popular anti-ageing techniques such as dermal fillers or anti-wrinkle injections as the results of SuneKOS actually improve over time, due to the bio-regeneration processes that are triggered by the treatment. You'll start to see results as soon as 7 - 10 days after treatment, which will improve over time. These results usually last for around six months, though a wide variety of factors can have an impact on this, including lifestyle, sun exposure and the unique properties of your skin.
The results of your treatment can be improved and extended by the use of the revolutionary NutraKOS supplement, which we can factor into the price of your treatment. NutraKOS is a daily drinkable supplement that supports skin regeneration using a potent mix of amino acids to improve your results and give you plump, healthy-looking skin for longer.
SuneKOS is a revolution in the world of non-surgical anti-ageing, offering the filling benefits of hyaluronic acid based formulas alongside effective skin regeneration to give long-lasting, natural-looking and subtle results to help put a spring back in your step and feel like the best possible version of yourself! At Revolution Aesthetics, we are passionate about giving our clients the best possible results in a safe environment, and making you feel amazing.
To find out more about SuneKOS any of the other treatments we offer at Revolution Aesthetics, or to book your consultation with our highly qualified team, contact us today on 0161 327 0969, or email us at [email protected].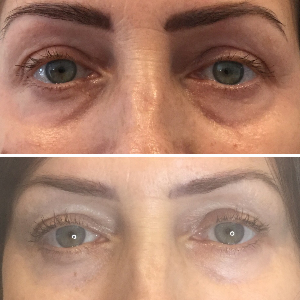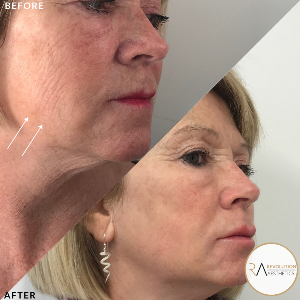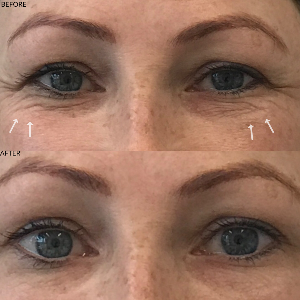 Q.
What are the benefits of SuneKOS treatment?
Anti-ageing action, as the skin is regenerated and rejuvenated.
Plumping activity as collagen and elastin production improves the elasticity and plumpness of the skin.
An improvement in the appearance of facial volume loss due to the lifting and filling effects of the treatment.
The skin sees a lifting and tightening effect.
Skin texture is improved due to increased skin regeneration.
The skin sees deep hydration and moisturising activity due to the injection of Hyaluronic Acid.
Superficial wrinkles and expression lines are reduced.
Skin appears more radiant and smooth.
Dark circles and bags around the eye area are reduced.
Elastin and collagen production in the skin is stimulated, giving a healthy, plump and youthful appearance to the skin.
Q.
How long will it take?
The SuneKOS treatment normally takes around 20 minutes. We recommend four treatment sessions around a week apart to see optimum results from the SuneKOS system.
Q.
When will I start to see the results?
You can start to see changes as soon as 7-10 days after your first treatment.
Q.
How long does it last for?
The results of SuneKOS treatment normally last for around six months, however, this can be dependent on multiple factors such as lifestyle, genetics etc.
Q.
Does it hurt?
At REVOLUTIONAESTHETICS our clinicians are all experienced injectors with a wealth of experience in treating people with needle phobias. The treatment is relatively pain free and our clinicians are trained to carry out a number of techniques to help decrease any discomfort.
Q.
How much will it cost?
One course of treatment consists of 4 treatments each of which are ideally 7-10 days apart. This starts from £649, or £699 including the NutraKOS drinkable daily supplements.
All our clinicians at REVOLUTIONAESTHETICS have extensive knowledge on the facial anatomy and on the biochemistry of the skin. We like to ensure all our patients are treated safely and effectively using the most up to date revolutionary techniques.