Dermal Fillers in Altrincham & Cheshire
Treatments start from £199. Administered by fully qualified medical and dental professionals. If you are interested in a consultation please fill out the form below, email [email protected] or call 0161 327 0969.
Treatments start from £199. Administered by fully qualified medical and dental professionals. If you are interested in a consultation please fill out the form below, email [email protected] or call 0161 327 0969.
Our dermal filler facial treatments will help you to look as youthful on the outside as you feel on the inside by smoothing lines and wrinkles, softening and plumping up your skin. Our dermal fillers treatments are available at our Altrincham clinic, serving patients in Manchester, Cheshire and beyond.
As we get older, our skin gradually loses some of its hydration, elasticity and fat, resulting in duller, looser and more wrinkled skin.
Dermal fillers are a safe and effective treatment for tackling these signs of ageing by rejuvenating the skin and reducing the appearance of wrinkles. The treatment is quick, convenient, virtually pain-free, and provides natural-looking results. It usually takes just 30–45 minutes, and there is no recovery time required afterwards, making fillers a popular alternative to surgical treatments.
About Our Dermal Filler Treatment
Dermal filler treatments are an injectable facial filler that is widely used by clinicians worldwide due to the fantastic instant results this product produces. Dermal filler treatments are used to create a smooth, plumped effect - immediately enhancing the appearance of facial features. This effective injectable treatment is used to reinstate volume loss associated with ageing, treat unwanted facial lines and contour the face. The main benefit of this injectable enhancement is the natural result it provides. Whether the filler is injected into lips, nose, chin or wrinkles - the product settles quickly into the skin, appearing and feeling as natural as possible.
Dermal fillers are an excellent non-surgical cosmetic treatment as they are injected in small volumes, allowing clients to dictate the amount injected into the facial area. In general, all treatments using dermal filler are customisable to each client to produce a variety of results. At Revolution, we work with this substance to create natural results, enhancing features and smoothing skin with small volumes of filler. However, clients will be asked to discuss their desired look at their one on one consultations with a member of our experts. We recommend that clients book in for small doses of filler, from 0.5ml to around 1ml per treatment. This allows clients to slowly create the desired outcome, allowing time for fillers to settle and to fully ensure that clients are happy with the finished look. Here at Revolution Aesthetics, our trained clinicians are experts in creating symmetry, revitalising the skin and enhancing natural beauty.
This is dependent on the area treated and how much filler is required. We only use the highest quality dermal fillers. Prices start from £199.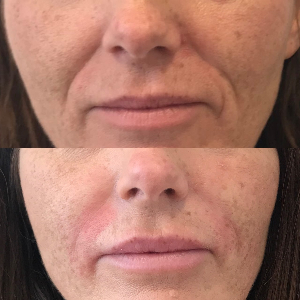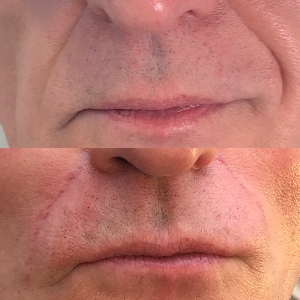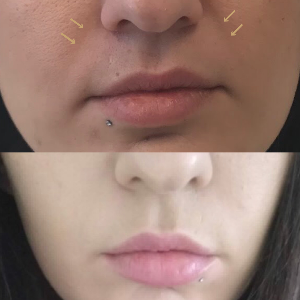 Are Dermal Fillers Safe?
Our team of trained medical professionals put safety at the forefront of everything we do. Therefore, our treatments are carried out with utmost care and precision. Dermal fillers are minimally invasive, quickly administered and temporary - meaning that treatments can be carried out without the fear of lifelong commitment. The active ingredient in dermal fillers is hyaluronic acid, which is a natural product that already exists within your skin's cells. It works by helping your cells to retain water so that it feels and looks plump, healthy and hydrated. This gives you a youthful appearance by returning the natural contours and firmness to the skin. Due to the natural substances that make up the juvederm dermal filler product, the ingredients of our fillers are completely safe to inject into the skin. Like most medical and aesthetic treatments, rare side effects can occur. However, our consultants will always discuss each client's medical history and any health concerns first to determine whether our treatments are suitable. Unlike surgical procedures, any facial treatments carried out using dermal filler are reversible. Should any complications or adverse effects arise, the filler can be dissolved immediately.
During your treatment, a small amount of filler is injected into the skin by your trained clinician using fine micro needles. This results in a softer and smoother appearance of the skin.
Hyaluronic acid can also give you fuller lips.
At REVOLUTION AESTHETICS, we are experts at treating those with needle phobias. We offer a numbing gel and use very fine micro-needles to ensure that you are as comfortable and relaxed as possible during the treatment.
Prior to your treatment you will be required to attend a full consultation so that we can assess your suitability for fillers and discuss your desired outcome from the treatment.
We are a team of highly qualified medical professionals with interests in a wide variety of medical fields, including general practice, personal nutrition, dentistry, and of course aesthetics. We believe in treating your skin holistically and will advise you on lifestyle changes you can make to complement your treatment and help to look after your skin.
What Can Dermal Fillers Be Used For?
Dermal fillers are very versatile and can be used to improve the overall appearance of your skin as well as target specific areas of concern.
Dermal fillers give you a youthful appearance by returning the natural contours and firmness to the skin.
Problem areas that dermal fillers are often used to reduce and improve the appearance of include:
Smile lines

- ageing can often increase the depth of smile lines, which can be easily smoothed out using our fillers. This treatment gives long-lasting effects, immediately reducing the appearance of unwanted smile lines.

Lip lines

- dermal fillers work to blur the appearance of lip lines or surrounding wrinkles around the area. We can inject the filler to erase these lines from your face.
Lip augmentation - the plumping effect of dermal fillers gives instant volume to the lips when injected in this area. Our professionals can add volume, create symmetry or reshape the lips how you want them.

Nasolabial folds (nose to mouth lines)

- deep lines in this area can be corrected with our fillers. A small injection of product will remove these creases instantly.
Deep folds and wrinkles - hyaluronic acid rejuvenates the skin and eradicates wrinkles. Dermal filler will revitalise the face, restoring youthfulness and volume.
Cheekbone enhancements - when injected above the cheekbone, dermal fillers will add structure and contour the face. The natural shape of your cheeks will be immediately enhanced to reinstate definition.

Sunken cheeks

- your cheeks can be revitalised with a simple dermal filler treatment. The injection will create volume and plumpness to the cheek area.
Tear troughs - dark circles under the eyes are easily removed using dermal fillers. The finished result will ensure your skin is smooth, bright and revitalised.
Jawline and chin - the filler can be used to reshape, enhance and define the jaw area. A lifting effect will be created instantaneously once dermal fillers are administered.

Acne scars

- the filler works to remove and lift acne scars. The injection will effectively fill the area to create a smooth surface.
At RA, we offer a range of dermal filler treatment options as we believe this product to be one of the best to provide natural enhancement to the skin and face. Although this non-surgical treatment is temporary, the filler is long-lasting and incredibly versatile. This cosmetic procedure is fast becoming popular with clients of all agents, due to the safety and effectiveness of the solution. Our trained practitioners in Manchester are highly skilled in achieving a variety of results with dermal fillers, ensuring that each treatment is carried out professionally.
Benefits of Dermal Fillers
Dermal fillers are hugely popular amongst people that want to achieve younger looking skin because they're so quick and convenient to administer and provide such natural-looking results.
Here are just some of the many benefits of choosing to restore your skin's youthful appearance with dermal fillers:
Quick to administer
Almost pain-free
Immediate results
Versatile treatment
Natural-looking results
Safe
No invasive surgery required
Younger looking skin
Can target specific areas
Boost your confidence
Start seeing results in a few days
Results are semi-permanent
You can wear makeup immediately
Dermal fillers allow you to be the best version of yourself, enhancing your natural beauty, reducing signs of ageing, and boosting your self-esteem and confidence.
Rather than dramatically changing your appearance, dermal fillers simply return your skin to its previous plump, glowing and youthful condition.
Dermal Filler Aftercare and Side Effects
One of the best benefits of dermal filler treatments is that results are visible instantly, with no recovery process or down-time needed. Although enhancements are immediately noticeable, it is important to note that filler will migrate and settle in the injected area. Therefore, the final results are more likely to be seen at around 4 weeks after treatment.
Swelling: Immediately after the procedure, you may notice swelling and additional volume. For example, lip enhancements tend to swell excessively for the first week or two, which is completely normal for treatments of this type. To reduce swelling, we recommend applying an ice-pack to the area a few times a day post-treatment.
Bruising: Each client's recovery and side-effects are different. However, some patients may experience bruising around the treated area. Again - this is completely normal and will subside in a matter of days. If you would like to reduce bruising quicker, we recommend applying arnica oil/cream.
Tenderness: Like all injections, tenderness around the area is to be expected. Dermal filler treatments are painless but patients may experience some slight discomfort. After the filler is administered, tenderness can last a day or two - we ask clients to avoid touching the area to allow the filler to settle.
Any other side-effects that clients may experience are to be discussed with your practitioner. You can rest assured that adverse effects are exceptionally rare; however, we are happy to advise and reassure clients at any time before or after your appointment. We will take care to go through the after-care process during your consultation, as well as ensure that you are suitable for the injections.
The Revolution Approach to Non-Surgical Treatments
Our trained clinicians have a clear understanding, approach and vision to providing treatments for our clients. We focus on providing cosmetic treatments and beauty therapy that enhances pre-existing natural beauty. Our medical professionals are highly experienced in delivery quality results, ensuring 100% customer satisfaction. We are committed to providing exemplary service and devoted to making clients feel ecstatic and happy with their results. Our team of practitioners are keen to develop a trusting relationship with every client, in order to understand their needs and insecurities so that we can provide the best resolution. Our treatments focus on boosting confidence and rejuvenating the skin and natural beauty - rather than focussing on trends.
If you are looking for dermal fillers in Manchester, contact us today to arrange your consultation. You can always contact our specialists to discuss your treatment options, obtain advice or ask any queries you may have.
Q. How long does it take?
Roughly around 30-45 minutes, but every person is different and this will be discussed in your personalised consultation.
Q. How long does it last for?
Around six to nine months. This range is because some individuals will break down the dermal filler quicker than others.
Q. What will the treatment involve?
During your consultation, we will create an individualised treatment plan for you. The procedure itself will be carried out using an ultra fine needle to administer the dermal filler, creating a replenished and youthful look. A local anaesthetic numbing cream is applied to ensure you remain comfortable throughout the procedure.
Q. When will I see results?
You will notice the difference immediately. However, please allow up to 4 weeks to see the finished result once any swelling has subsided.
Q. What happens after treatment?
As with anti-wrinkle injections, there are very few side effects associated with this treatment. This is discussed during your consultation. Soreness and mild swelling can occasionally occur, which commonly settles quickly. There is no recovery time so you can resume normal daily activities. All clients are provided with aftercare following treatment.
Q. How much does it cost?
This is dependent on the area treated and how much filler is required. We only use the highest quality dermal fillers. Prices start from £199.