8-Point Facelift in Altrincham & Cheshire
Treatments start from £149. Administered by fully qualified medical and dental professionals. If you are interested in a consultation please fill out the form below, email [email protected] or call 0161 327 0969.
All of us will see the impact of skin ageing as we get older - it's a natural part of life and there's simply no avoiding it! However, at Revolution Aesthetics, we understand the impact that the signs of ageing can have, not just physically but mentally too. Our mission is to help make our patients feel their best through a variety of non-surgical aesthetics treatments, including the 8-Point Facelift!
What is the 8-Point Facelift?
The 8-Point Facelift, sometimes known as the liquid facelift, is an advanced dermal filler treatment that aims to smooth, lift and plump the skin, to replace facial volume lost by the natural skin ageing process. As we age, the skin's natural regeneration processes begin to slow down. This means less production of collagen and elastin, which are the substances that give or skin that smoothness, brightness and elasticity, resulting in the sagging or drooping of the skin in the mid and lower face, and the appearance of fine lines and wrinkles.
By expertly placing dermal filler at certain points in the face, we can help to restore volume, lift sagging skin and smooth fine lines and wrinkles.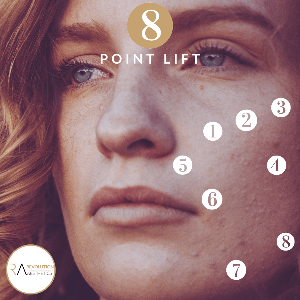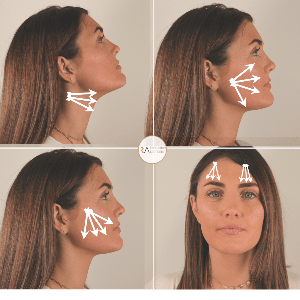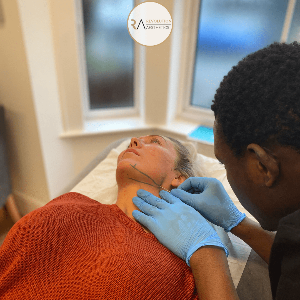 Developed by Bazilian surgeon Mauricio de Maio, the 8 points are used by practitioners to target drooping or sagging skin all over the mid and lower face. These 8 points have been chosen to give the best possible results and can help to:
Define the cheekbones
Lift and plump the cheek area, which can become sunken as skin loses its elasticity
Soften and smooth the tear trough, improving the appearance of dark circles and undereye bags
Fill and smooth deeper lines in the nasolabial folds (nose to mouth lines)
Lift the corners of the mouth and smooth so-called "marionette lines" at the corners of the mouth
Tighten and lift the skin around the chin and neck, reducing the appearance of jowls
Sharpen the jawline
Add volume to sunken areas of the mid and lower face
At Revolution Aesthetics, we're passionate about giving you amazing results in a safe, comfortable and luxurious environment. Your safety is always our top priority, and as a team with an extensive background in medicine and dentistry, this is something we take very seriously. We're highly experienced in injectable treatments like the 8-point facelift, and use market-leading products such as the Juvederm and Juvederm Vycross ranges to ensure you're getting the safest and best possible results. We pride ourselves on our friendly, honest and transparent approach to aesthetics. To find out more or to book your consultation with the Revolution Aesthetics team, please don't hesitate to get in touch!
FAQ
Q.
How long do results last?
Like all dermal filler treatments, the 8-point lift is not permanent, and results can last from 9-18 months, depending on the individual.
Q.
How long is the recovery time after an 8-point facelift?
Like the vast majority of filler treatments, you are able to go back to your day almost straight away! You should avoid any strenuous exercise, saunas and spas and not drink alcohol for the first couple of days though. Our team will be able to advise you of all the necessary precautions you need to take after treatment.
Q.
How long does the treatment take?
Most 8-Point Facelift treatments will take around an hour altogether, but this is different for everyone and is something we'll discuss with you during your consultation.
Q.
Does it hurt?
We use ultra-fine needles and high-end branded products for our dermal filler treatments, including the 8-point facelift to reduce discomfort, and wealso use a Vibro pen to make things as painless as possible! Numbing cream is also available to make sure the treatment is as comfortable as possible.