Tear Trough Treatment in Altrincham & Cheshire
Treatments start from £350. All treatments are administered by fully qualified medical and dental professionals. If you are interested in a consultation, please either fill out the form below, email [email protected] or call 0161 327 0969.
Treatments start from £350. All treatments are administered by fully qualified medical and dental professionals. If you are interested in a consultation, please either fill out the form below, email [email protected] or call 0161 327 0969.
Tear trough deformity is a common condition, and it can be a major concern for those of us who suffer from a shallow or dark area under the lower eyelids. A prominent tear trough is characterised by a sunken area underneath the lower eyelid that stretches down to the top of the cheeks. It can create a shadow, or be a darker, more pigmented, area of skin that creates a fatigued appearance, even if you're getting enough rest every night.
There are a number of causes associated with tear troughs. They are often confused with eye bags or dark circles, as they create a similar appearance but have different causes. Eye bags, for example, are caused by a sagging of the skin or excess fat under the eye, casting a shadow on the cheeks. While dark circles are due to thinness in the skin under the eye, where blood vessels and other pigmentation can be seen more prominently.
Tear troughs appear when the muscle under the eye is 'anchored' to the orbital bone, and when there is a lack of fat in the area (which can be genetic, or brought on by the effects of the ageing process), this creates a hollow, or trough, and casts a shadow under the eye.
While dark circles can be covered with makeup, tear troughs and eye bags create darkness under the eye by casting a shadow on the cheek, making them difficult to cover, and leaving many of us feeling uncomfortable or insecure in our appearance.
Fortunately, non-surgical treatment is now available for tear troughs, to add volume to the area and reduce the 'shadowed' effect under the eyes, by using hyaluronic acid fillers. This treatment is available at our Altrincham clinic, serving patients in both Manchester and Cheshire.
What Is Tear Trough Treatment?
Tear trough treatment is a safe, advanced treatment that uses hyaluronic acid-based dermal fillers to add volume, smoothness and brightness to the undereye area and reduce the appearance of a shadow under the eye.
During tear trough treatment, we gently inject the dermal filler into the area under the eye and at the top of the cheek to fill the hollow under the eye and reduce the depth of the trough.
Dermal fillers can be used to successfully rejuvenate and smooth the tear trough area. It also helps to improve the quality of the skin by stimulating collagen production in the area, resulting in thicker, stronger skin and less pigmentation, as well as enhancing hydration in the undereye area by stimulating more fluid absorption from the body.
The result is a refreshed, smoothed and plumper-looking tear trough, as well as a brighter, more youthful appearance.
What Is A Dermal FIller?
Dermal filler is most commonly used in the lips and face as part of a non-surgical, injectable treatment. Dermal filler is an excellent product for achieving desired looks in a variety of treatments. The gel substance is administered via a syringe and needle into the treatment zone, and it helps to plump, enhance and revitalise the area in which it has been applied. Dermal filler is effective in facial treatments as it gives instant results, automatically enhancing or giving volume to the required area. Dermal filler is also commonly used as an anti-wrinkle treatment, as the plumping effect reduces wrinkles instantly, giving the appearance of smooth skin. Most dermal filler treatments take up to 30 minutes, making the injectable procedure extremely quick and effective. Dermal filler is mostly made up of hyaluronic acid, which is safe to insert into the skin. Our experienced practitioners will go through any potential allergies during your consultation to ensure that dermal fillers are right for you.
Tear Trough Treatment At Revolution Aesthetics
At Revolution Aesthetics, we are passionate about helping our patients feel like the best possible versions of themselves. As medical experts, we use our knowledge and experience to carry out non-surgical aesthetic treatments that truly make a difference in your life, giving you the results you're looking for.
We precede all of our tear trough filler treatments with a consultation and assessment with our highly qualified team of experts to ensure that you are suitable for treatment, and that we will be able to get highly effective results for you. If your concern is dark circles, which are primarily caused by pigmentation under the eyes, then unfortunately tear trough treatment won't give you the results you need. However, if your issues are caused by sagging of the under eye, loss of undereye fat or a genetic tear trough, then you are more likely to see effective results.
If, after your consultation, we do not think you are a suitable candidate for tear trough filler, we won't carry out treatment any further, and we will do our best to refer you to a specialist in the area of your concerns.
If we believe that treatment will be successful for you, we will make an appointment for your treatment. On the day of your treatment, you'll be welcomed to our Altricham clinic by our friendly team.
We'll firstly apply a numbing cream to the area to be injected to improve your comfort and make your treatment more pleasant. Then, using a very fine cannula, we will inject dermal filler into the area and gently massage it to create the desired shape.
At Revolution Aesthetics, we only use market-leading, brand name dermal fillers to ensure the complete safety of our patients, and make sure we get the best possible results for you, while also keeping our prices as affordable and accessible as possible.
After Care And Side Effects
After your treatment, you can get back to your day straight away, without any downtime! We recommend that you don't wear makeup for the rest of the day to prevent infection; in addition, that you don't exercise heavily for 48 hours to give the filler time to settle in place correctly. We also ask that you do not touch the injected area for at least 6 hours to avoid any infection or disturbance to the treatment. Once this time has passed, gently wash with soap and water, taking care not to aggravate the affected area. Apart from that, you can go about your daily life as usual, without any need to take time off work.
Your medical professional at the clinic will spend some time explaining any side effects that you may experience. Your consultation will also be an opportunity to discuss any allergies that may result in an allergic reaction post-treatment. Our practitioners are especially careful in administering eye filler, and our team has a deep understanding of facial anatomy and the treatment itself, ensuring that each procedure is carried out safely and to your satisfaction. As the undereye area is extremely sensitive and delicate, the most common side effects are bruising and swelling. It is completely normal to have this reaction; some clients may experience this adverse reaction more than others. Please rest assured that bruising and swelling will rapidly subside within one week after treatment. If you have any concerns or wish to gain reassurance after treatment, our friendly clinicians are always happy to advise.
To find out more about tear trough treatment, dermal fillers, or an alternative treatment offered by Revolution Aesthetics in Manchester, contact the clinic on 0161 327 0969, or email us at [email protected] today.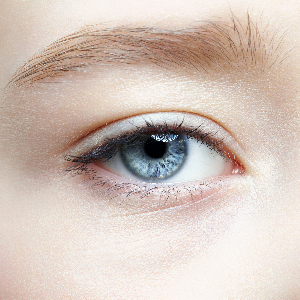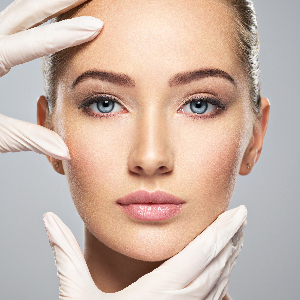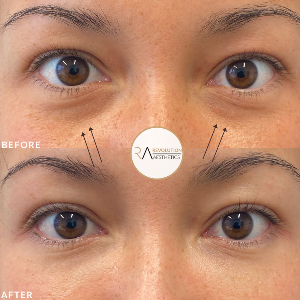 FAQ's
Q.
How long does tear trough treatment take?
A. The treatment itself takes around 30 minutes; however, we also ask that you allow around 15 minutes for the anaesthetic cream to take effect. Please also be aware of the time taken to fill in any relevant paperwork and attend the consultation meeting.
Q.
How long does tear trough filler last for, and how often should I get it redone?
A. The effects of the treatment last for 6-18 months for most of our patients. The precise duration, however, depends on a number of factors including age, skin type, and lifestyle. Treatment can be repeated once the dermal filler dissipates naturally. On the other hand, dermal filler treatments can be dissolved, if necessary, should there be any concerns.
Q.
What will the treatment involve?
A. Following an individual consultation and examination session, on the day of your treatment, we will apply local anaesthetic to the area to numb the skin for several minutes. Then, the filler will be injected under the skin and massaged into place for optimum results.
Q.
Does the treatment hurt?
A. We use a local anaesthetic to prevent any discomfort, which - when combined with the use of a blunt cannula to precisely apply the dermal filler into the tear trough - means there is very little pain, even when injecting into an otherwise sensitive area. You may experience some light pain in the days after the procedure, this is usually due to inevitable swelling and bruising. It is, however, rare for this discomfort to last longer than a few days.
Q.
When will I see results?
A. Following the treatment, you will often see an initial result immediately. There will be some subtle swelling, which will usually take 1-2 days to settle. We will also discuss a full post-treatment skincare regime to keep your skin in the best condition possible; this is especially important if you suffer from pigmented skin and dark circles. Dermatologists also recommend that direct UV rays or extremely cold temperatures are avoided in the first few weeks post-treatment; this should optimise your results and ensure no unnecessary scarring or damage is caused to the treated area.
Q.
Are tear trough fillers safe?
A. All of our dermal filler procedures are carried out with the utmost care and professionalism. Part of our protocol requires patients to undergo an in-depth consultation, where your consultant will assess your under eye area, look into your medical history, and determine whether the treatment is safe and suitable to carry out.
Q.
Do tear trough fillers work for dark circles?
A. Tear trough injections minimise the appearance of dark circles by adding volume to the skin to create a plumped-up look. The revitalisation of the area will therefore prevent the visibility of any dark circles, acting as a barrier between the blood vessels and skin.
Q.
Does tear trough filler get rid of wrinkles?
A. Anti-wrinkle injections are almost identical to tear trough injections as they are both performed using hyaluronic acid. The dermal product we use is excellent for adding volume, plumpness and smoothness to the skin.