Thread Lift Treatment | Non-Surgical Face Lift in Altrincham & Cheshire
Non-surgical face lifts and thread lift treatments start from £500. Administered by fully qualified medical and dental professionals. If you are interested in a consultation please fill out the form below, email [email protected] or call 0161 327 0969.
Non-surgical face lifts and thread lift treatments start from £500. Administered by fully qualified medical and dental professionals. If you are interested in a consultation please fill out the form below, email [email protected] or call 0161 327 0969.
The ageing process takes a great toll on our skin, which can affect the emotional health of both men and women. As we age, collagen production in the skin naturally slows down, creating a loss in skin elasticity and plumpness over time. This leads to skin drooping and the appearance of fine lines and wrinkles that we see in almost everyone as they age.
We also lose facial fat as we get older, which creates a droop in the mid and lower face, and can drastically change how you look and feel about your appearance. This drooping effect impacts on the appearance of the cheeks, mouth, jawline, chin and undereye area, and can give a tired, aged appearance or unevenness in the structure of the face.
At Revolution Aesthetics, we are proud to offer our clients the thread lift treatment at our clinic in Altrincham, Cheshire, a fantastic non-surgical option to help give lift and tightness back to the face, reducing the appearance of drooping or sagging, and creating a lifted, boosted and rejuvenated appearance.
What Is A Thread Lift?
Thread lift is an aesthetic treatment that requires the use of PDO threads to non-surgically rejuvenate the face and neck.
PDO threads, also known as Polydioxanone threads, are very fine threads that are inserted underneath the skin, which then anchor and lift the skin, creating a smoothed and boosted appearance. PDO is completely safe, and has been used for many years in medical practice, including uses as dissolvable sutures. During treatment, the threads are placed and remain under the skin, and the small structures attached to the threads help to pull back sagging areas of skin. This gives an instant lift and tightening to the treated area, while the threads also trigger the skin's structures to regenerate, creating lasting benefits for the skin over time as well.
The body actually recognises the threads and their structures as a type of injury, and so the body's regeneration and rejuvenation processes kick in. The threads continue to enrich the skin and surrounding structures by stimulating collagen production as part of these rejuvenation processes as the threads begin to dissolve.
This renewed production of collagen encourages continued volume and tightness in the treated areas, even after the threads themselves have dissolved.
PDO threads are completely biodegradable, and are absorbed and broken down by the body over the course of around six to twelve months. The collagen production and rejuvenation benefits of the treatment will last for another six months on average, meaning the results of the treatment can be seen for 12-18 months overall, after which time repeated treatments can be carried out if required.
These dissolvable threads can be used for face lifts, neck lifts, and to soften the appearance of wrinkles.
Before & After Treatment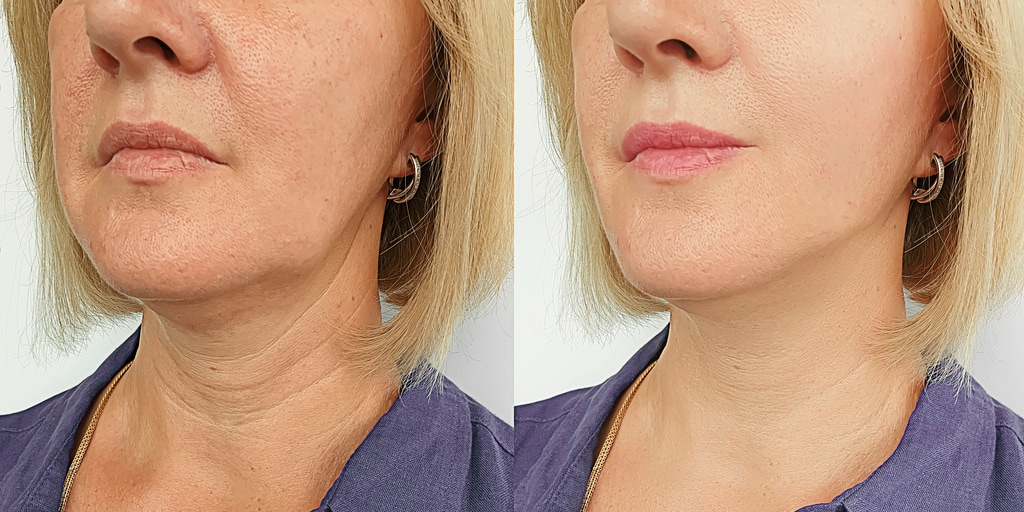 Non-Surgical Face Lift Treatment At Revolution Aesthetics
At Revolution Aesthetics, we are passionate about patient safety and comfort for any treatment that we carry out. As a team of medical experts, we are driven and guided by a desire to offer high-quality, safe and effective care in aesthetic medicine, at a cost that is more affordable than many doctor led clinics, to ensure that our high quality care is accessible to as many patients as possible.
We always carry out a full consultation before any of our thread lift or non-surgical face lift procedures, to ensure your suitability for the treatment and make sure that we will be able to get truly effective results. As medical professionals, we only carry out treatments when we feel that it is medically appropriate and will have a significant positive impact on your life and confidence.
During a thread lift treatment, we apply a local anaesthetic to the skin to improve your comfort and make the treatment a pleasant experience for you. The threads are inserted into the skin using a cannula, while your practitioner moulds and shapes the face to give the lifting results. The insertion process is generally a little uncomfortable, but due to the local anaesthetic, is not painful. Then, your practitioner will tighten the treads to provide the lifting effect, ensure they are correctly places and then trim the threads to ensure they are secure.
We will discuss post-procedural best practice after treatment to help prolong the results of the treatment, and keep you safe and comfortable even after you've left the clinic.
The treatment usually takes less than an hour, and has little to no downtime, so you can get back to your day straight away. Often, patients see the lifting effect of the treatment instantly. There may be a little local tenderness, swelling or bruising, but this is generally very mild and subsides after a day or two.
To find out more about non-surgical face lift, thread lift treatment, any of the other treatments we offer at Revolution Aesthetics, or to book your consultation, contact us on 0161 327 0969, or email us at [email protected] today.
The Skin Ageing Process
The skin ageing process is something that happens to all of us as we get older, and is primarily affected by the levels of collagen and elastin in the skin, which change throughout our lives. From around our mid-20s onwards, the levels of collagen and elastin start to decline naturally as the production of these substances slows, and natural breakdown continues at the same rate. Collagen is a protein that exists in skin, bones, muscle tissues and more, and is what gives our skin its elasticity, or 'lift'. This decline in collagen levels as we age is responsible for many of the most common symptoms of skin ageing, including the appearance of fine lines and wrinkles, a loss of facial volume and a 'drooping' or 'sagging' appearance, and thinning of the skin. We also see a loss in facial fat as we get older, which contributes to the common signs of ageing as well.
We can help to reverse these symptoms and slow the appearance of new lines, facial drooping and loss of volume by kickstarting a process known as neocollagenesis (new collagen production in the skin). This is a common technique and is used in many different aesthetic treatments, including skin needling treatments like mesotherapy. These treatments work by stimulating an injury to the skin, without actually causing any damage. Your body then floods the area with increased levels of collagen in an attempt to repair the 'injury'. Of course, with no significant damage to actually repair, this collagen works to rejuvenate skin in the area, which is where the amazing benefits of aesthetic skin treatments come from.
Thread lift treatments take this process one step further, by physically lifting the skin to reduce sagging and drooping. The PDO threads have tiny cones which anchor to the skin when they are inserted, so the skin is pulled up with the thread. This creates an effective initial result, that is maintained by neocollagenesis in the area as the threads begin to naturally dissolve.
What Can Thread Lifts Treat?

Thread lifts are ideal for treating patients where volume loss is more pronounced and the skin has started to droop or sag significantly. However, it can also be used as a preventative treatment for patients with less significant volume loss. As the treatment promotes neocollagenesis, it can be used for younger skin as well as in older patients. Thread lifts are ideal for:
Enhancing the natural contours of the face -

by tightening skin and providing more definition to the face, we can help to enhance and promote your natural bone structure and facial contours, giving you a smooth, striking and youthful appearance.
Lifting the cheeks - the cheeks are one of the first areas to be affected by a loss of volume in the skin and face, so are a very common condition that thread lifts can treat.
Lifting the jowls - like the cheeks, the jowls are very commonly affected by the loss of skin volume that occurs as we age. Jowls appear when there is loose skin around the chin and jawline, so tightening the skin in this area can improve definition around the jaw and create a sculpted look.
Smoothing and tightening loose skin - along with a loss of facial fat, loose skin is one of the primary causes of conditions like sunken cheeks, lack of definition and the appearance of jowls. By tightening and smoothing the skin using thread lifts, we can eliminate many of these conditions and improve the appearance of skin overall.
Smoothing the jawline - lifting and smoothing the skin around the jawline helps to reduce the appearance of jowls, and also helps to emphasise and enhance your natural bone structure.
Smoothing the neck - thread lifts can also be used to treat loose skin on the neck, including a 'ropey' appearance and loose skin under the chin & around the throat. The thread lift treatment can tighten the skin to elongate the neck and reduce signs of ageing around the neck and decolletage, creating an elegant and youthful effect.
Improving the appearance of wrinkles and deeper lines on the lower face - this includes some of the most common concerns for our patients, such as deeper nasolabial folds (smile lines) and marionette lines (the vertical lines that appear at the corners of the mouth, and pull down the corners to create a 'sad expression).
Where Can Thread Lifts Be Used?
Thread lift treatment is most effective on the mid to lower face and neck, including the cheeks, around the mouth and the jawline, as this is where the majority of skin sagging and volume loss occurs. Thread lifts can also be used to treat the neck and tighten the skin around the throat and decolletage, lifting and smoothing in this area.
Are Thread Lifts Safe?
Thread lifts are an ideal alternative to the traditional surgical facelift where the signs of skin ageing are more pronounced, often in older patients. Thread lifts give you a lifted and smoothed appearance without the need for any general anaesthetic, extensive recovery time or surgical intervention, making them perfect for a more subtle lifting procedure and far safer than traditional surgery.
The PDO threads we use are completely biodegradable and will be completely broken down after six to twelve months in a safe and comfortable procedure that doesn't release any harmful chemicals or substances. Even after the threads in the area are dissolved, the neocollagenesis will continue, to keep the beautiful, lifted results for even longer.
FAQs
Q.
How long does Thread Lift treatment take?
The procedure takes 30-45 minutes to complete, but every person is different and this will be discussed in your personalised consultation.
Q.
What will the treatment involve?
Following an individual consultation and examination; a dental block is administered, or local anaesthetic is applied to the area to numb the skin for several minutes. Then the thread is inserted via a cannula into position. Once tightened and correctly aligned, the thread is secured and left in place, creating an immediate lift in many cases.
Q.
How long does it last for?
The results of our thread lift procedure typically last from 12-18 months. However, ultimately the duration is different for each patient, and often depends on a number of individual factors including lifestyle, age, your individual skin type and how quickly your body naturally breaks down the threads.
Q.
Are there any side effects?
There are few side effects related to the procedure. Some patients may experience mild localised discomfort or bruising, but this will settle within a short period of time.
Q.
When will I see results?
Following the treatment, you will often see an initial result immediately. There is usually some subtle swelling, which will take a little time to settle. The final result of the treatment can generally be seen 10-14 days after treatment.