Marionette Lines - Condition & Treatments
Treatments start from £149. Administered by fully qualified medical and dental professionals. If you are interested in a consultation please fill out the form below, email [email protected] or call 0161 327 0969.
Here at Revolution, we believe that beauty radiates from the inside out, which is why our professional team performs leading aesthetic treatments that not only enhance your natural beauty but transform your self-confidence, too. Whether you're starting out on your patient journey or have had cosmetic procedures in the past, our team of medical and dental practitioners will be by your side for every step.
Our experienced team have helped many individuals with skin concerns. At Revolution Aesthetics, we offer a range of treatments to treat all different skin types, including sensitive skin. When you come to us for a treatment, we're passionate about improving your overall skin health and boosting your confidence! Many of our treatments aim to tackle dehydrated skin, loose skin and the appearance of wrinkles and lines. Regarding the latter, many patients come to us to minimise the appearance of marionette lines, commonly known as smile lines or laugh lines. Here's some more information about marionettes and how they can be treated.
What are marionette lines?
Marionettes are vertical lines that can appear between the mouth and the chin when the skin naturally ages. They get their name from Marionette string puppets, who are known to have split jaws so that puppeteers can make them talk. The skin around the mouth area can be more prone to wrinkle development as it's thinner, hence why Marionettes can be visible as early as your 20s. Marionette lines can also cause the skin in the lower half of the face to sag.
Whilst it's natural to develop these lines over time due to ageing, there are some lifestyle factors and crease-causing habits that can lead to the formation of wrinkles. One of the main factors is diet - bad habits such as excessive consumption of caffeine, alcohol and sugar are all known to speed up the ageing process. As well as this, eating processed foods can cause a loss of collagen, subsequently causing wrinkles. Exposure to the - the body will prematurely break down collagen and elastin, resulting in a loss of elasticity. It's therefore vital that we make healthy lifestyle choices to avoid the development of wrinkles.
Deep marionette lines are just one of the signs that our skin health is altering over the passage of time. As collagen depletion and loss of volume cause the delicate, thin skin tissue around our mouth to sag, the nasolabial folds appear more prominent - leading to facial lines that many people become unhappy with. The Buccal Fat Pads at the centre of our cheeks also move inwards and down as we age, worsened by the lack of hyaluronic acid that would usually give our faces a plump, youthful look. Skin appears dull and dehydrated, especially when stretched over weakening bony structures that form the foundations of the face, drawing attention to the loss of volume in the cheek area.
Because of this, the cheeks are often a great starting point when looking to freshen faces and can be treated with filler to create a subtle, buildable and beautiful look. We can then directly treat marionette and nasolabial lines to smooth out the rest of your visage for a completely revitalised appearance.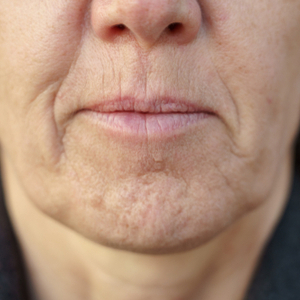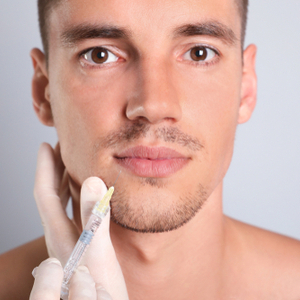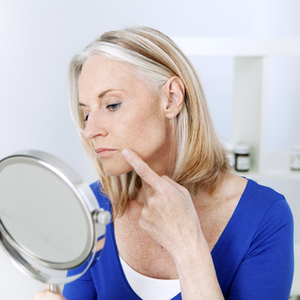 Marionette line treatments carried out by experts
The natural ageing process should be as much of a pleasure as it is a privilege, but here at Revolution Aesthetics, we know that wrinkles/creases, loose and sagging skin can leave us feeling decades older than we'd like. We feel that no one should have to feel worried about the impact of facial ageing. That's why we provide a range of safe, effective, and medically proven marionette line treatments to help improve the skin elasticity, replace loss of volume and restore a more youthful appearance.
There are a few different ways to get rid of marionette lines - based on your desired look and your skin type, there will be a different 'best option' for everyone. Here are just some of the ways that marionettes can be treated:
Our team of highly qualified medical professionals can treat problem areas and a range of deep lines in even very soft tissue without the need for cosmetic surgery or an invasive procedure, promising you natural-looking results that look and feel great. We take the 'Revolution' in our name seriously, as our consultants are dedicated to using the newest techniques with industry-leading products, guaranteeing that our corrective treatments offer amazing results.
What Happens before My Marionette Line Treatment?
Every face is different, which is what makes them so beautiful! This is why we tailor all of our cosmetic treatments to suit your face perfectly, factoring in the look of your pre-existing facial muscles, skin type, and personal aesthetic goals following your non-surgical procedure. We ask all our clients to attend an individual consultation with a member of our medical team so we can assess the condition of your skin, take a closer look at your medical history, and decide which treatment is best for you. This also gives you the chance to consider if you're ready for a procedure, ask our team any questions you might have, or make them aware of any concerns - like if you're squeamish about needles ahead of one of our injectable treatments. Our professionals will be more than happy to help or make any adjustments.
Our Oxford Road Clinic is based in Altrincham with convenient links by bus or rail to Cheshire, Manchester, and beyond, so if you'd like to chat about any of our treatments or book a free consultation with our friendly and professional team, pick up the phone today and call us on 0161 327 0969. You can also book an appointment with us easily by using the handy content form on our website.
How Do I Prevent Marionette Lines?
Although we all age, unfortunately, none of us age in exactly the same way. This means that a number of factors can cause the development of marionette lines, which makes it difficult to pinpoint what we can do to definitively prevent them from forming. Some of us simply have a genetic predisposition that can increase the likelihood of dynamic lines - such as smile or frown lines - appearing, as not all of us can win the collagen production lottery! But lifestyle factors such as excessive sun exposure, tiredness, excessive drinking and smoking can harm your chances of keeping a fresher and younger-looking face for longer.
So, what are some preventative measures you can use to keep those lines at bay?
Investing in a good sunscreen is a scientifically proven way to slow down any signs of aging, as is ensuring that you are drinking water regularly to keep the skin hydrated, which pairs with eating a good diet. Poor nutrition really does show itself on our bodies and our minds, so eating more fruit and fish can work wonders when maintaining our overall health. It may sound silly, but another tip is to simply try to relax your face. Through excessive use of the depressor muscle, which sits on either side of the chin in a triangular shape, you are more likely to cause the formation of wrinkles. Relaxing your face - and relaxing in general - is a good way to solve this problem, especially when used with ZO Skin Health Medical Grade Skincare that renews, prepares and treats the epidermis.
Retinol, or Retinoids, is derived from Vitamin A and is another key ingredient to look for and can be found in many skincare products. It is one of the most studied anti-ageing ingredients available on the mainstream market and can increase the production of collagen, which is key in plumping up the skin barrier.
Want to minimise the appearance of marionette lines? Contact us today to find out more about our treatments
Whether you've got early-stage marionette lines or deeper lines, we have a range of cosmetic procedures that can treat facial wrinkles by stimulating the production of collagen and relaxing the facial muscles. We can treat these lines without surgery, meaning that there's no need for invasive procedures. To tackle marionettes and feel confident once again, contact our team today on 0161 327 0969 or by emailing [email protected]