Eyebrow Lift in Altrincham & Cheshire
Eyebrow Lift Treatments start from £199. Administered by fully qualified medical and dental professionals. If you are interested in a consultation please fill out the form below, email [email protected] or call 0161 327 0969.
Eyebrow Lift Treatments start from £199. Administered by fully qualified medical and dental professionals. If you are interested in a consultation please fill out the form below, email [email protected] or call 0161 327 0969.
What Is An Eyebrow Lift?
An eyebrow lift refers to a treatment that physically lifts the area on or around the browbone, to open up the eyes and create a more sculpted appearance. Skin ageing or your natural face structure can be reasons a brow lift might be right for you, as it can help you look more alert and awake, bring hooded or sunken eyes out and make them more prominent, and create a sleek and youthful appearance.
Skin ageing happens to everyone over time, and is a completely natural process. The visible signs of skin ageing, such as fine lines, wrinkles, sagging and drooping skin and photoaging are all caused by a drop in collagen production in the body. One of the most abundant proteins in the body, collagen is found within many different body parts, such as bones, muscles, connective tissues, and of course, the skin. Collagen gives the skin elasticity, allowing it to 'bounce back' when it moves, such as when we talk, smile and blink, so when there is less protein in the body, the skin becomes overall less elastic, leading to skin drooping and sagging, as well as folding in the form of fine lines and wrinkles. Around the eye area, this can lead to crow's feet wrinkles and drooping of the skin around the eyebrow. This can make the eyes appear smaller, less open and more tired, giving some people a real knock to their confidence.
Eyebrow lift treatments are able to gently lift the brow, reducing drooping in the skin, as well as smoothing and shaping uneven brows, something many people struggle with.
Eyebrow Lift Treatments
Eyebrow lift treatment is most commonly carried out using botulinum toxin, sometimes called anti-wrinkle injections or botox. Botulinum toxin eyebrow lifts work by paralysing the muscles in the area to stop the skin for drooping and folding. We use superfine needles to inject the botulinum toxin into the brow area, to lift and smooth the skin in this area, and results can be seen within a week. Botulinum toxin treatments, including brow lift treatment, generally last for up to six months before repeated treatments are required, and repeat treatments actually become more effective over time!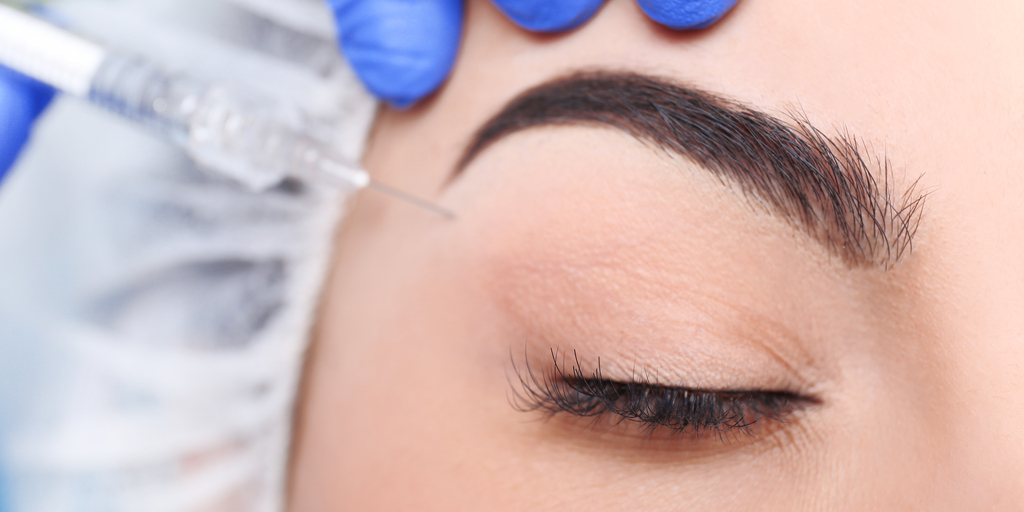 Dermal fillers can also be used to gently lift the eyebrow and sculpt the browbone by adding volume to the area. Dermal fillers are biodegradable hyaluronic acid gels that add volume under the skin at the injection point, gently building structure and lifting the skin above. Dermal fillers are a great option for a more subtle lifting appearance that lasts for a little longer than Botulinum toxin - dermal filler treatments tend to last between six and eighteen months before top-up treatments are needed.
At Revolution Aesthetics, we also offer thread lift treatments to lift the eyebrow, as well as the mid-lower face. Thread lifts work by inserting biodegradable PDO threads under the surface of the skin, and then using lifting motions to tighten the skin on the cheeks, jawline and brows. Thread lifts last from around 18 months to two years, and results will continue to improve over time!
Why Choose Revolution Aesthetics For Eyebrow Lift Treatment?
At Revolution Aesthetics, we are passionate about anti-ageing treatments to help make our clients feel their absolute best and most confident. Our team is made up of medical and dental professionals, and the safety and comfort of our patients is of paramount importance to us. We'll work closely with you to identify the best possible treatment plan for you and your concerns, and are dedicated to never overselling to our patients, or carrying out any treatments that aren't in your best medical interests.
To find out more about our options for eyebrow lift treatments, the Revolution approach to aesthetics, or to book your consultation with our experts, get in touch today!
Q.
Is the eyebrow lift dangerous?
Our eyebrows lifts are non-invasive and non-surgical, meaning there is a minimised risk of infection and no chance of complications that are sometimes caused by general anaesthetics - our treatment options are incredibly safe. With a team of highly qualified medical professionals on hand to deliver our treatments, you do not have to worry about complications that are often caused by a lack of training and experience. Before you receive any treatment, you will have a consultation to discuss your desired look, as well as any relevant medical history and allergies. With this information, our experts will ensure that the treatment is safe to go ahead and will inform you of any possible, albeit minor side effects, so that you are fully informed.
Q.
Is the eyebrow lift painful?
Our eyebrow lifts are the preferred method of achieving a youthful look without the need for painful or invasive surgical procedures. With dermal fillers, pain is minimal and when delivered by medical professionals, like our team, you may only feel a slight pinch during the treatment. The needles we use are very fine and are therefore tolerable, but we can use topical anaesthesia if needed. As for the , we take all of the necessary measures - such as using local anaesthetic - to ensure that your experience is as painless and as comfortable as possible. Our professionals know the best practices when it comes to delivering these treatments, and have experience in dealing with patients that have needle phobias. Your comfort, and your safety, is our main priority.
Q.
Is an eyebrow lift permanent?
An eyebrow lift without surgery and threads to create the appearance of lifted eyebrows is not permanent. However, when using dermal fillers, results can be seen within a week and then usually last for up to six months after the treatment. As for the thread lifts we offer here at Revolution Aesthetics, these can last from approximately 18 months to 24 months on average. With threads or fillers, the result may not be completely permanent but the results will improve continuously over time, after each treatment.