Lip Fillers in Altrincham & Cheshire
Our lip augmentation treatments start from £199. Administered by fully qualified medical and dental professionals in and around Manchester. If you are interested in a consultation please fill out the form below, email [email protected] or call 0161 327 0969.
Lip fillers are fast becoming one of the most popular injectable treatments amongst clients of all ages. This treatment is designed to add instant volume and shape to the lips, with results visible immediately after injection. The treatment itself can be customised to meet your desired shape. Using a variety of methods, your lips can be perfectly shaped and enhanced to compliment your face shape and desired look.
Creating the perfect lips to suit your face is an art. Our medical and dental aesthetic clinicians have the creative skills, artistry and experience to flawlessly enhance and define your lips, boosting your confidence and highlighting your natural beauty.
Our lip fillers can enhance your appearance by giving you plumper, more balanced, defined and natural looking lips. Our lip fillers treatment is available at our clinic in Altrincham which serves customers in Manchester, Cheshire and beyond.
About our lip filler treatments
Here at Revolution Aesthetics we exclusively offer RA Lips. RA Lips are created using an advanced technique following a full consultation and detailed analysis of the face, to create symmetrical and balanced lips, using the revolutionary ratio. Our specialist consultants work with you to gain an understanding of the look you wish to achieve. However, by incorporating our advanced techniques, we can ensure that your lips are treated with care. Revolution Aesthetics strive to enhance natural beauty, rather than mask it.
We use top of the range dermal fillers for your lips providing the best revolutionary results. We use top of the range dermal fillers for your lips, which provide the best revolutionary results. Dermal filler is one of the most versatile of all treatments, as it can be administered in all areas of the face and delivers instant, exceptional results. Dermal filler is long-lasting and is used to re-shape features such as the lips and nose, define the upper lip and smooth out and revitalise the skin. The plumping effect of this filler makes it perfect for fine lines, wrinkles and lips. Our expert aesthetic professionals have a deep understanding of the anatomy and complexities of the face, which is why we have carefully selected dermal filler as the best option to accentuate the lips and other facial features.
The active ingredient in our lips fillers is a safe, natural product called hyaluronic acid. Hyaluronic acid helps our skin's cells to retain water and already occurs naturally within our bodies. When injected into the lips it provides hydration and volume. All treatments at Revolution Aesthetics are completely safe, medically approved and of high quality. As part of your consultation, your consultant will take time to talk through your procedure, exploring any potential allergies prior to proceeding with your treatment.
How Does The Procedure Work?
Before your lip filler injection, we require you to attend a full consultation to analyse your face and lips and discuss your desired outcome from the treatment. Our skilled team can then ensure that your lips are augmented and shaped to suit both your facial shape and structure and your desired outcome. The process of injecting lip filler is quick, easy and generally painless. As with most injectable facial treatments, the procedure is completed in around an hour, allowing time for your consultation to be carried out, topical numbing cream to be applied, and filler to be injected. Before the filler is inserted, your clinician will generously apply a numbing cream to keep pain to a minimum. The application of the cream will create a slight tingling sensation around your mouth, ensuring that the insertion of the needle does not cause any discomfort or pain.
Your practitioner will ensure that you are comfortable before going ahead with the treatment. Our practitioners are highly experienced, professional and reassuring, and they will thoroughly ensure that your lip enhancement is performed with precision and gentle care. The syringe used to administer the dermal filler is then worked across your lips to create the perfect shape.
During your treatment a small amount of filler is injected into your lips by a trained clinician using a fine micro-needle. We are experienced at treating people who are nervous about needles and will do everything we can to make you comfortable and relaxed throughout the treatment. We also use an effective numbing cream and vibro pen to minimise discomfort during the quick procedure.
We are a team of highly qualified medical professionals with qualifications and interests in a wide variety of medical fields including general practice, personal nutrition, dentistry, and of course aesthetics. We believe in treating beauty holistically and will advise you on lifestyle changes you can make to complement your treatment and help to look after your appearance.
What can lip fillers be used to treat?
Lip fillers are used to enhance the appearance and shape of your lips. Our client's reasons for opting for lip fillers often include goals like:
Improve lip shape
Improve symmetry and balance of lips
Add volume to lips
Define lips
Enhance overall appearance.
Improve the upper lips lines and wrinkles
Benefits of lip fillers
Lip fillers are a common beauty treatment amongst those looking to enhance their natural features. Lip augmentation treatments can be gradually built overtime, adding 0.5-1ml volumes of dermal each time. This is useful to those that are unsure of how they wish their lips to look.
As well as being quick and convenient to administer, lip fillers also achieve impressive results.
Just some of the benefits that our clients enjoy when they opt for a lip filler treatment include:
Quick to administer
Almost pain-free
Immediate results
Natural-looking results
Safe
No invasive surgery required
Boost confidence and self-esteem
Results are semi-permanent
You can wear makeup soon after
Whether you want plumper looking lips or simply wish to balance out your lips for a more symmetrical smile, lip fillers are an affordable, quick and easy way of achieving the look you desire. We are qualified professional dermatologists based in Manchester, and we have a wealth of experience that allows us to achieve astonishing results with every client.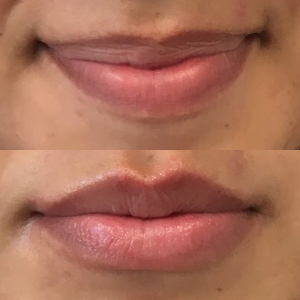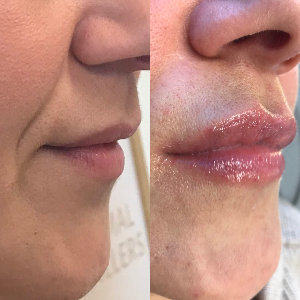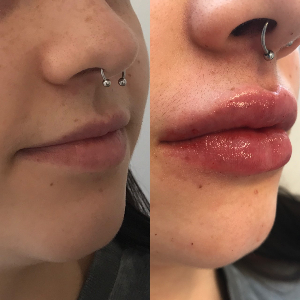 Frequently Asked Questions About Lip Fillers
Q.
How long does the treatment take?
A. The treatment itself takes between 20-30 minutes. However, our consultations aim to be thorough, providing you with enough detail to fully explain the procedure. Furthermore, you will need to take the time to read through some helpful paperwork.
Q.
Will I see results straight away?
A. Your lip enhancement will be visible immediately. However, most patients experience swelling for a few weeks, which is completely normal as your filler migrates into place and settles. Your final result will come into effect after around two weeks.
Q.
What aftercare process should I follow?
A. We recommend all patients keep their lips hydrated and moisturized, as dryness can affect the augmentation. To reduce any swelling, you can simply apply an ice pack up to 4 times a day to release any pressure.
Q.
What are the side effects and risks of lip fillers?
A. Lip injection side effects vary from person to person. It is likely that, immediately after treatment, your upper lip line will feel firm and hard - this will subside after a few weeks. Other risks include redness and bruising; however, this will subside even sooner, likely just a few days after treatment. Our treatments are completely safe. If you do experience any adverse effects, please discuss these with your practitioner. We have trained medical staff able to to manage any concern.
Q.
Does it hurt?
A. Revolution Aesthetics clinicians are trained in administering light pain injections. In addition, we use a combination of effective double numbing cream, together with the use of a Vibro pen, which can help ease any discomfort. As your lips settle and recover, as you may expect, you may experience increased sensitivity in the area and slight discomfort.For this, you can take over-the-counter painkillers to ease any pain.
Q.
How long will the filler last?
A. Typically 6-9 months, although this can vary depending on the patient and on the amount of filler administered.
Q.
Can I come in and just have a chat about potential treatment?
A. Of course, we offer free consultations, and, if it is your first time, we will talk you through the whole procedure and discuss your expectations.
Q.
How are RA Lips different to normal lip filler procedures?
A. We use a creatively designed technique following our revolutionary ratio, which all our clinicians are trained in.
Q.
How much does it cost?
A. Prices start from just £199. Available at our clinic in Altrincham, we are perfectly located for customers based in Greater Manchester, Cheshire and the surrounding areas. If you would like further information, please contact us today!
Q.
How much filler do I need?
A. For a subtle effect, 0.5ml can be added to achieve a slight enhancement. Many of our clients prefer to start slowly and build up the product overtime. Our clinicians will offer a range of filler options to suit the volume you wish to add. Rest assured that your consultant will make recommendations based on your lip shape, size and your image goals.
Q.
How long before I can wear lip liner or lipstick again?
A. To avoid infection, we ask our patients to resist the urge to wear makeup products on their freshly enhanced lips. You should wait at least 24 hours before wearing lipstick.
Q.
Can you smoke after lip fillers?
A. We advise against smoking for at least 24 hours after treatment to avoid interfering with the filler.