Lip Fillers in Altrincham & Cheshire
Our lip filler treatments start from £199. Administered by fully qualified medical and dental professionals. If you are interested in a consultation please fill out the form below, email info@revolutionaesthetics.co.uk or call 0161 327 0969.
Creating the perfect lips to suit your face is an art. Our medical and dental aesthetic clinicians have the creative skills, artistry and experience to flawlessly enhance and define your lips, boosting your confidence and highlighting your natural beauty.
Our lip fillers can enhance your appearance by giving you plumper, more balanced, defined and natural looking lips. Our lip fillers treatment is available at our clinic in Altrincham which serves customers in Manchester, Cheshire and beyond.
About our lip filler treatments
Here at Revolution Aesthetics we exclusively offer RA Lips. RA Lips are created using an advanced technique following a full consultation and detailed analysis of the face, to create symmetrical and balanced lips, using the revolutionary ratio.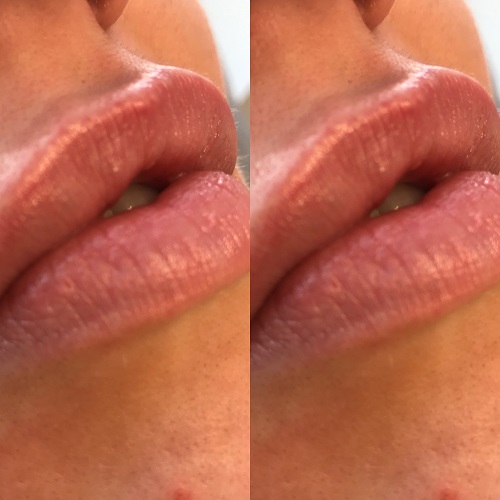 We use top of the range dermal fillers for your lips providing the best revolutionary results.
The active ingredient in our lips fillers is a safe, natural product called hyaluronic acid. Hyaluronic acid helps our skin's cells to retain water and already occurs naturally within our bodies. When injected into the lips it provides hydration and volume.
During your treatment a small amount of filler is injected into your lips by a trained clinician using a fine micro-needle. We are experienced at treating people who are nervous about needles and will do everything we can to make you comfortable and relaxed throughout the treatment. We also use an effective numbing cream and vibro pen to minimise discomfort during the quick procedure.
Before your lip filler injection, we require you to attend a full consultation to analyse your face and lips and discuss your desired outcome from the treatment. Our skilled team can then ensure that your lips are augmented and shaped to suit both your facial shape and structure and your desired outcome.
We are a team of highly qualified medical professionals with qualifications and interests in a wide variety of medical fields including general practice, personal nutrition, dentistry, and of course aesthetics. We believe in treating beauty holistically and will advise you on lifestyle changes you can make to complement your treatment and help to look after your appearance.
What can lip fillers be used to treat?
Lip fillers are used to enhance the appearance and shape of your lips. Our client's reasons for opting for lip fillers often include goals like:
Improve lip shape
Improve symmetry and balance of lips
Add volume to lips
Define lips
Enhance overall appearance.
Improve the upper lips lines and wrinkles
Benefits of lip fillers
Lip fillers are a common beauty treatment amongst those looking to enhance their natural features.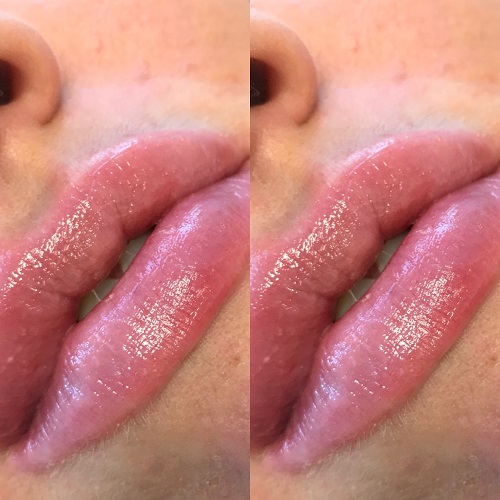 As well as being quick and convenient to administer, lip fillers also achieve impressive results.
Just some of the benefits that our clients enjoy when they opt for a lip filler treatment include:
Quick to administer
Almost pain-free
Immediate results
Natural-looking results
Safe
No invasive surgery required
Boost confidence and self-esteem
Results are semi-permanent
You can wear makeup soon after
Whether you want plumper looking lips or simply wish to balance out your lips for a more symmetrical smile, lip fillers are an affordable, quick and easy way of achieving the look you desire.
Frequently Asked Questions About Lip Fillers
Q.
How long does the treatment take?
Approx 30mins, this can vary depending on the patient.
Q.
Does it hurt?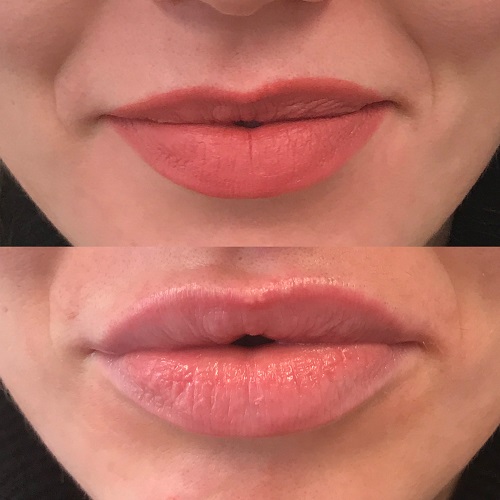 REVOLUTIONAESTHETICS clinicians are trained in administering low pain injections. In addition, we use a combination of effective double numbing cream, together with the use of a Vibro pen, which can help ease any discomfort.
Q.
How Long will it last?
Typically 6-9 months, although this can vary depending on the patient.
Q.
Can I come in and just have a chat about potential treatment?
Of course, we offer free consultations, and if it is your first time, we will talk you through the whole procedure and discuss your expectations.
Q.
How are RA Lips different to normal lip filler procedures?
We use a creatively designed technique following our revolutionary ratio, which all our clinicians are trained in.
Q.
How much does it cost?
Prices start from just £199. Available at our clinic in Altrincham, we are perfectly located for customers based in Greater Manchester, Cheshire and the surrounding areas.