What Is Mesotherapy?
10th December, 2019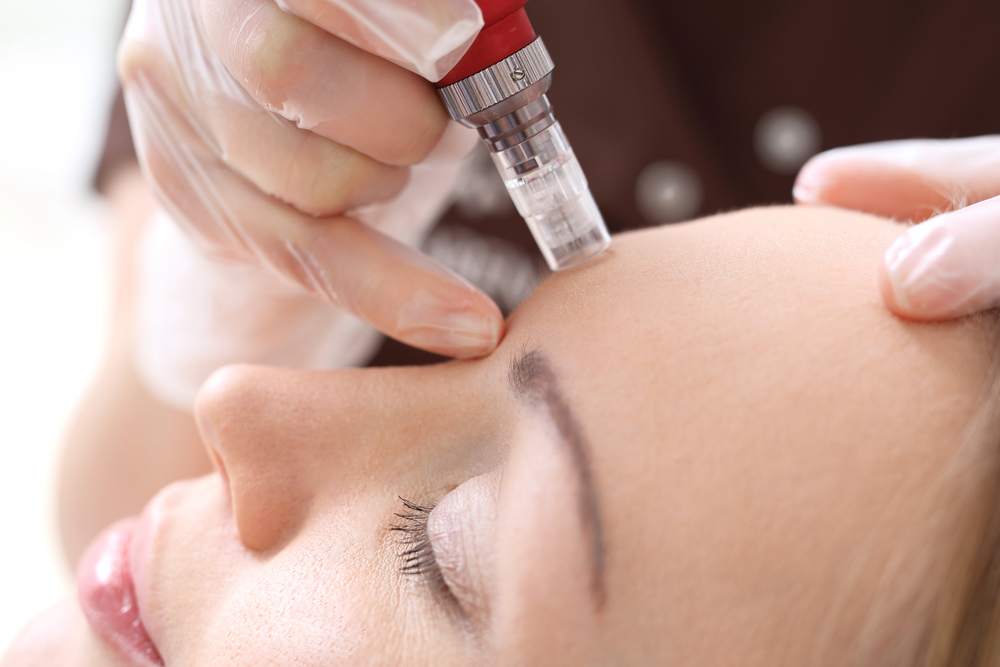 Mesotherapy is originally a French skin treatment that uses a series of tiny injections to carefully and effectively apply nourishing skincare ingredients to the skin. Perfect for a variety of skin conditions, including acne scars, dry skin, congestion, fine lines, redness, pigmentation and more, as well as suitable for all skin tones and types, mesotherapy makes the perfect addition to your skincare routine. As well as targeted treatments, mesotherapy can also effectively tighten, brighten and smooth skin.
At Revolution Aesthetics, we're experienced in creating amazing skincare results to create healthy, youthful and glowing skin for our clients, with basically no downtime and results that really last. We use micro-fine needles to gently penetrate the skin and allow our incredible, personalised cocktail of serums to act as effectively as possible. Our team are passionate about the amazing results mesotherapy can have for our patients while being completely safe and comfortable. At Revolution Aesthetics, we use the nappage technique for mesotherapy, which penetrates the skin at an angle, and at a depth of 2-4mm to create the most effective results, while also ensuring the utmost in patient safety. Nappage also involves allowing any serums to sit on the skin for 3-5 minutes, giving it time to absorb into the skin and act as effectively as possible.
How Does Mesotherapy Help Your Skin?
The benefits of mesotherapy are twofold, creating a treatment that works quickly and lasts, with deeply effective results. The skin needling part of the treatment is brilliant for reducing scarring and fine lines, as well as lifting and tightening the skin. By creating micro-injuries in the skin, mesotherapy prompts the skin to kickstart its own regeneration procedures, bringing collagen to the area. This extra rush of collagen helps to smooth scarring, improve skin elasticity, fine lines, sagging in the face and the overall health and strength of the skin.
Mesotherapy also creates tiny channels in the skin, which allows other skincare to deeply penetrate the skin and be as effective as possible. We create tailor-made skincare packaging using high-quality serums created by medical specialists for the most effective results. For clients in need of a hydration boost, we use high-quality skincare serum to support the effects of the micro-needling treatment. The serum contains hyaluronic acid, which is an intensely hydrating ingredient that gently plumps and smooths skin, while attracting moisture to the area to give you soft, supple and hydrated skin, as well as amino acids, plant extracts, fast working active enzymes and antioxidants. By allowing our incredible serums to deeply penetrate the skin, we can ensure its effectiveness and you can feel confident you're getting a treatment that really works.
We can also combine mesotherapy treatment with other treatments like skin peels, and it can also be used in between treatments like Botox or dermal fillers for a complete skin-boosting and anti-ageing solution. The hyaluronic acid in our serums supports hyaluronic acid filler treatment and can help to prolong the effects of injectables like fillers and Botox, by naturally and holistically creating anti-ageing results and improving the overall health of the skin. When combined with treatments like skin peels, we can see complete rejuvenation of the skin, as the top layers of dull skin are removed and the layers beneath are both exposed and given a fantastic boost.
How Often Should I Have Mesotherapy Treatments?
At Revolution Aesthetics, we recommend that you have a course of between four and six sessions, in order to see the best results. Then you can have follow-up treatments on a semi-regular basis. Our team will work closely with you to find a practical, effective, affordable and safe treatment plan that works for your skin and gives you the results you want to see from mesotherapy. Or, if you're low on time or just have an event you want to look and feel your best for, mesotherapy is perfect for giving you a quick boost! Our Red Carpet Treatment takes only half an hour and has very little recovery time, so you can easily fit it into your schedule.
To find out more about mesotherapy treatments and how you can incorporate them into your regular skincare routine with Revolution Aesthetics, contact our team of medical experts today to book your free consultation!
@RevolutionAesthetics on Instagram